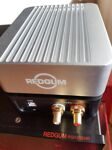 Новый цифро-аналоговый конвертор REDGUM RGDAC8.
14.08.2017 19:07
Мультиформатный асинхронный Hi-res USB DAC REDGUM RGDAC8 (Made in Australia) успешно прошел бета-тестирование, запущен в производство и доступен для заказа. Новинка выпускается в серебряном и черном цветах.
Характеристики:
Data rate maximum speed: 384kHz
Bit depth maximum: 32bit
USB Audio Streaming Controller – SA9227:
Supports 16/24/32 Bit resolution and sampling rates of 32kHz, 44.1kHz, 48kHz, 88.2kHz, 96kHz, 176.4kHz, 192kHz, 352.8kHz, 384kHz.
THD <0.005% (including noise component)
S/N ratio > 95dB
Audio Stereo DAC PCM5102A:
2 V RMS DirectPath™, 112dB Audio Stereo DAC with 32bit, 384kHz PCM Interface
SNR 112 dB
Dynamic range 112 dB
THD+N at –1 dBFS –93dB
Full-scale single-ended output
2.1 V RMS (GND center)
Normal 8× oversampling digital filter latency 20t S
Low latency 8× oversampling digital filter latency 3.5t S
Sampling frequency 8 kHz to 384 kHz
System clock multiples (f SCK ): 64, 128, 192, 256, 384,
512, 768, 1024, 1152, 1536, 2048, 3072 up to 50 MHz